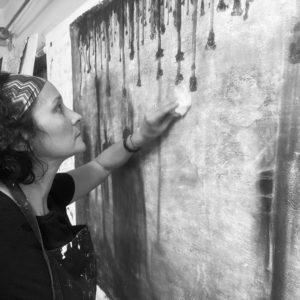 ARTIST STATEMENT
My work is a constant exploration of human emotions and how those emotions tie into the times in which we live. My work illuminates the absurdity of controlling time and space, an impulse that makes us both the victim and executioner of our actions.
Employing the quotidian as a point of departure, I present my work in the form of narrative essays that allow the viewer to entertain a variety of perspectives. This becomes a tool for open-ended readings of reality. 
The images I work with stem from everyday observations of the human condition. I'm not interested in the perfect photographic image, but rather the artifacts of our everyday lives. The imperfections I encounter tend to take time and space out of context and strip everything away – gender, cultural background and our biases – to create a new history in the shape of a dream. My work is a reflection on what we are and what we may allow ourselves to become.
I create an acrylic skin that is a physical context for my stories. Placing my images between acrylic layers, I build several scenes on different planes and complement them with fabric, paper or strokes of paint. The materiality of my expression helps to convey my message. For me the surface is a critical aspect of the piece, it is as important as the images themselves. 
The concept of time and space is captured within the material and it is defined as a series of epidermal layers. The process becomes a metaphor for human skin, created from individual cells into the shape of a being. Through these images and my  use of color, texture and form I have created a personal ontology that expresses my doubt about our assumptions that we are a 'civilized' species. 
BIOGRAPHY
A native of the Dominican Republic, Aida Tejada spent half of her life experiencing diverse cultures. The fact that she earned a degree in Psychology and communication, adds intellectual substance to her visual vocabulary.
While she is well versed in traditional photography, her artistic inclination from the start has been experimental. She uses various alternative photographic processes and hands-on photo-transfer techniques to create her work.
Aida is currently exploring acrylic skin as her primary medium, creating images from scratch, adding multiple layers of texture that enrich the already present histories of transferred photos. Additional treatment with drawing or painting techniques contributes to transforming each work into a one-of-a-kind piece.
Seeking alternative perspectives to reality, Aida makes the subject irrelevant. She transforms the ordinary into an aesthetic statement. She views the world with a heightened sense of emotion and empathy, creating poetic narratives.
Aida has participated in numerous exhibitions. Currently, she lives in Miami and teaches experimental photography at her studio.
SOLO EXHIBITIONS
Urban Layers – BigArts Center, Sanibel Island, FL, 2021
Short Stories – Wynwood Exhibition Center, Miami, FL, 2014
Short Stories – The Art Link Gallery, Miami, FL, 2013
Inner Reflections – Arts Garage, Delray Beach, FL, 2012
Inner Reflections – Alliance Française, Miami, Fl, 2011
INVITATIONAL & JURIED GROUP EXHIBITIONS
Latinisimo Biennial – City Lights Gallery, CT (Upcoming Sept. 2021)
Women Pulling at the Threads of Social Discourse, the Quilt – Camp Gallery, Miami, FL (Upcoming Oct. 2021)
Threading Thoughts – Camp Gallery, Miami, FL (Upcoming Oct. 2021)
Sew To Tell – Coral Gables Museum, Miami, FL, 2021
Healing The Earth – Art To Save Lives Contemporary, Fort Lauderdale, FL, 2021
28 ISEA  Exhibition – Lowell Arts Center, Lowell, MI, 2019
The Portfolio Series: Bakehouse Artists – Coral Gables Museum, Miami, FL, 2019
26 ISEA  Exhibition – Big Arts Center, Sanibel, FL, 2017
National Art Encounter 2017 – Naples, FL, 2017
Aqua Art Fair – Art Basel Week, Projects Gallery, Miami Beach, FL, 2017
Fugit Tempus – Rail Road Museum, Miami, FL, 2017
Spectrum Art Fair – Contemporary Art Projects, Miami, FL, 2016
Aqua Art Fair – Projects Gallery, Miami Beach, FL, 2016
Fugit Tempus – Kroma Gallery, Coconut Grove, FL, 2016
Person, Place, Thing – Wynwood Exhibition Center, Miami, FL, 2015
Spectrum – Contemporary Arts Projects, Miami, FL, 2015
Aqua Art Fair – Projects Gallery, Miami Beach, FL, 2015
12X12 – Projects Gallery, Wynwood, FL, 2015
Miami Mix – Projects Gallery, Wynwood, FL, 2015
Just my Height Art Show – Pyramide Gallery, Miami, FL, 2015
Art Cycle 2015 – Coral Gables Museum, Miami, FL, 2015
In Deep – Deering Estate at Cutler, Miami, FL, 2014
Art Cycle 2014 – Coral Gables Museum, Miami, FL, 2014
Artcycle, Miami – Miami Sea Fair, Miami, FL, Wynwood, FL, 2014
12×12 – Projects Gallery, Wynwood, FL, 2014
Unhinged – BWAC (Brooklyn Waterfront Artists Coalition), Brooklyn, NY, 2013
MIA Sea Fair – Irreversible Projects Space, Miami, FL, 2013
Artcycle 2013 – Coral Gables Museum, Miami, FL, 2013
Art Wynwood 2013 Edition – Irreversible Mag Collaboraion, Miami, FL, 2013
Breaking Ground – Dinamo Project, Coconut Grove, FL, 2013
Another World & Other Places – Lucky Street Gallery, Key West, FL, 2012
Extraordinary Five – Wynwood Exhibition Center, Miami, FL, 2012
Artecho – Miami Beach, FL, 2012
Artcyle Project – Wynwood, FL, 2012
Works on Paper – Artspace Gallery, Miami, FL, 2012
Femmes – Artdealer Miami, Miami FL, 2012
Emerging Artists Series – Botanical Garden, Miami Beach, FL, 2012
Updated Visual Dialogs – The Lunch Box Gallery, Wynwood, FL, 2012
Williams Island Festival – Aventura, FL, 2012
Zona Maco – Collaboration project with Irreversible Magazine, DF, Mexico, 2012
Art Wynwood – Collaboration project with Irreversible Magazine, Wynwood, FL, 2012
Escape – Artlink, Wynwood, FL, 2011
Inside-Out the City – Space Lighting Studio, Wynwood, FL, 2011
Square Foot – Projects Gallery, Wynwood, FL, 2011
8 on Eight – Alliance Française, Miami, FL, 2011
Urban Lanscape – 1650 Gallery, Los Angeles, CA, 2011
Scenes on the Street – Darkroom Gallery, Vermont, VE, 2011
Transmusing – Artspace MAGQ, Miami, FL, 2011
Stillville – Shake a Leg, Coconut Grove, FL, 2011
Body – Pen and Brush, New York, NY, 2010
Perspectives – Nomade Gallery, Miami, FL, 2010
100% Vicious Circle – Nomade Gallery, Miami, FL, 2010
Food for Thought – Artspace MAGQ, Miami, FL, 2010
Urbayne Biscayne – Precision Art Gallery, Miami, FL, 2010
Loft 027 – Coconut Grove, Miami, FL, 2010
Snap to Grid – Art Center Lacda, Los Angeles, CA, 2010
Femmes – Nomade Gallery, Miami, FL, 2010
AWARDS
Best on Show, First Place at 28 ISEA  Exhibition (International Society of Experimental Artists)ISEA, Lowell Arts Center, Lowell, MI, 2019
First Place, 26 ISEA Exhibition (International Society of Experimental Artists), Big Arts Center, Sanibel, FL, 2017
Juror's Choice "Secrets and Mysteries", Darkroom Gallery, VT, 2012
RESIDENCIES
"Studios on the Mile". Three months, curated by Carol Damian,
Coral Gables, Miami, FL, 2020
"Environmental Artist in Residence". Two months, Deering Estate, Miami, FL, 2014
TEACHING / JUROR
Freelance photography teacher, 2015 to present
Co-owner at Green Square Studio, Miami, FL, 2015-2017
Juror, "Planète Femmes", International Photography Contest organized by The Alliance Francaise, Paris, France, 2011
Juror, "Iphoneography Miami" Organized by Artspace MAGQ, Miami, FL, 2012
PROFESSIONAL AFFILIATIONS
FAMA Member (Fiber Artist Miami Association), Miami, FL. Since 2021
ISEA Member (International Society of Experimental Artists. Since 2017
Associate Artist at Bakehouse Art Complex (BAC), Wynwood, FL. Since 2014