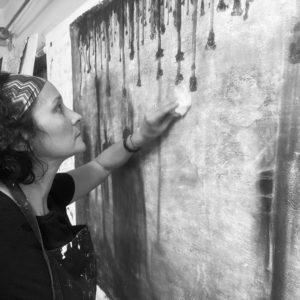 ARTIST STATEMENT
Through my multimedia work,  I explore the human condition and the entanglement with the multiple realities latent in our contemporary societies.
Employing the quotidian as a point of departure, I present my work in the form of narrative essays that allow the viewer to entertain a variety of perspectives. This becomes a tool for open-ended readings of reality. 
The materiality of my expression helps to convey my message. The process becomes a metaphor for human skin, created from individual cells into the shape of a being.
BIOGRAPHY
Native of the Dominican Republic, Aida Tejada has been working in art for more than fifteen years. Her degrees in Psychology and Communication, combined with her multicultural background, shaped her visual vocabulary.
While she is well versed in traditional photography, her artistic inclination from the start has been experimental and multimedia. Tejada has participated in numerous collective exhibitions and three solo shows. Her work has been awarded several times, including ISEA (International Society of Experimental Artists) First place 2017, and Best on show in 2019. The Artist's works has been granted with two art residencies—Deering Estate in 2014, and Studios in the Mile, curated by Dr. Carol Damien in 2020. Her work has been selected to participate in The Florida Biennial 2022. She lives in Miami, FL. Along with her studio work, she teaches experimental photography. Currently, Tejada is a student of the MFA Fine Arts Low residency Program at The Massachusetts College of Art and Design (Massart), Boston, MA.
SOLO EXHIBITIONS
2021 Urban Layers – BigArts Center, Sanibel Island, FL
2014 Short Stories – Wynwood Exhibition Center, Miami, FL
2013 Short Stories – The Art Link Gallery, Miami, FL
2012 Inner Reflections – Arts Garage, Delray Beach, FL
2011 Inner Reflections – Alliance Française, Miami, Fl
INVITATIONAL & JURIED GROUP EXHIBITIONS
2023 The World in a Handkerchief, Coral Gables Museum, Miami, FL (Invitational, curator: Yuneikys Villalonga)
2022 11th Florida Biennial – Art and Cultural Center Hollywood, FL (Juried by: Ylva Rouse, and curated by: Meaghan Kent)
From Darkness To Light And Back Again – Doran Gallery, Boston, MA (Invitational)A Home For Our Own – Camp Gallery, Miami, FL (Juried)
Small Works, Big Impact – Art To Save Lives Contemporary, Miami, FL (Invitational)
2021 Latinisiimo Biennial – City Lights Gallery, Bridgeport, CT (Invitational, curated by: Yolanda Vasquez Petrocelli)
Women Pulling at the Threads of Social Discourse, the Quilt – Camp Gallery, Miami, FL (Juried)
Threading Thoughts – Camp Gallery, Miami, FL (Invitational)
Sew To Tell – Coral Gables Museum, Miami, FL (Invitational)
Healing The Earth – Art To Save Lives Contemporary, Fort Lauderdale, FL (Invitational)
2019 28 ISEA  Exhibition – Lowell Arts Center, Lowell, MI (Juried by: Joseph Antenucci Becherer)
The Portfolio Series: Bakehouse Artists – Coral Gables Museum, Miami, FL (invitational)
2017 26 ISEA  Exhibition – Big Arts Center, Sanibel, FL (Juried by: Jade Dellinger)
National Art Encounter 2017 – Naples, FL (Juried)
Aqua Art Fair – Art Basel Week, Projects Gallery, Miami Beach, FL (Juried)
Fugit Tempus – Rail Road Museum, Miami, FL (Invitational)
2016 Spectrum Art Fair – Contemporary Art Projects, Miami, FL (Juried)
Aqua Art Fair – Projects Gallery, Miami Beach, FL (Juried)
Fugit Tempus – Kroma Gallery, Coconut Grove, FL (Invitational)
2015 Person, Place, Thing – Wynwood Exhibition Center, Miami, FL (Invitational)
Spectrum – Contemporary Arts Projects, Miami, FL (Juried)
Aqua Art Fair – Projects Gallery, Miami Beach, FL (Juried)
12X12 – Projects Gallery, Wynwood, FL (Juried)
Miami Mix – Projects Gallery, Wynwood, FL (Juried)
Just my Height Art Show – Pyramide Gallery, Miami, FL (Invitational)
Art Cycle 2015 – Coral Gables Museum, Miami, FL (Invitational)
2014 In Deep – Deering Estate at Cutler, Miami, FL (Invitational)
Art Cycle 2014 – Coral Gables Museum, Miami, FL (Invitational)
Artcycle, Miami – Miami Sea Fair, Miami, FL, Wynwood, FL (Invitational)
12×12 – Projects Gallery, Wynwood, FL
2013 Unhinged – BWAC (Brooklyn Waterfront Artists Coalition), Brooklyn, NY (Juried)
MIA Sea Fair – Irreversible Projects Space, Miami, FL (Invitational)
Artcycle 2013 – Coral Gables Museum, Miami, FL (Invitational)
Art Wynwood 2013 Edition – Irreversible Mag Collaboraion, Miami, FL (Invitational)
Breaking Ground – Dinamo Project, Coconut Grove, FL (Invitational)
2012 Another World & Other Places – Lucky Street Gallery, Key West, FL (Invitational)
Extraordinary Five – Wynwood Exhibition Center, Miami, FL (Invitational)
Artecho – Miami Beach, FL (Invitational)
Artcyle Project – Wynwood, FL (Invitational)
Works on Paper – Artspace Gallery, Miami, FL (Invitational)
Secrets and Mysteries, Darkroom Gallery, VT.
Femmes – Artdealer Miami, Miami FL (Invitational)
Emerging Artists Series – Botanical Garden, Miami Beach, FL (Invitational)
Updated Visual Dialogs – The Lunch Box Gallery, Wynwood, FL (Juried)
Williams Island Festival – Aventura, FL (Juried)
Zona Maco – Collaboration project with Irreversible Magazine, DF, Mexico (Invitational)
Art Wynwood – Collaboration project with Irreversible Magazine, Wynwood, FL (Invitational)
2011 Escape – Artlink, Wynwood, FL (Invitational)
Inside-Out the City – Space Lighting Studio, Wynwood, FL (Invitational)
Square Foot – Projects Gallery, Wynwood, FL (Juried)
8 on Eight – Alliance Française, Miami, FL (Invitational)
Urban Lanscape – 1650 Gallery, Los Angeles, CA (Juried)
Scenes on the Street – Darkroom Gallery, Vermont, VT (Juried)
Transmusing – Artspace MAGQ, Miami, FL (Invitational)
Stillville – Shake a Leg, Coconut Grove, FL (Invitational)
2010 Body – Pen and Brush, New York, NY (Juried)
Perspectives – Nomade Gallery, Miami, FL (Invitational)
Vicious Circle – Nomade Gallery, Miami, FL (Invitational)
Food for Thought – Artspace MAGQ, Miami, FL (Invitational)
Urban Biscayne – Precision Art Gallery, Miami, FL (Invitational)
Loft 027 – Coconut Grove, Miami, FL (Invitational)
AWARDS
2019 Best on Show, "Gracie Award" 28 ISEA Exhibition (International Society of Experimental Artists), Lowell, MI. Juried by: Joseph Antenucci Becherer
2017 First Place, 26 ISEA Exhibition (International Society of Experimental Artists), Sanibel, FL. Juried by: Jade Dellinger
2012 Awarded, Juror's Choice "Secrets and Mysteries, Darkroom Gallery, VT. Juried by: Catherine Edelman
RESIDENCIES
2020 Studios on The Mile Artist Residency, Three months, Coral Gables, Miami, FL. Curated by: Dr. Carol Damian
2014 Environmental Artist in Residency, Two months, Deering Estate, Miami, FL. Curated by: Lucinda Linderman
TEACHING / JUROR
Freelance photography teacher, 2015 to present
Co-owner at Green Square Studio, Miami, FL, 2015-2017
Juror, "Iphoneography Miami" Organized by Artspace MAGQ, Miami, FL,
2012Juror, "Planète Femmes", International Photography Contest organized by The Alliance Francaise, Paris, France, 2011
PROFESSIONAL AFFILIATIONS
FAMA Member (Fiber Artist Miami Association), Miami, FL. Since 2021
ISEA Member (International Society of Experimental Artists. Since 2017
Associate Artist at Bakehouse Art Complex (BAC), Wynwood, FL. Since 2014